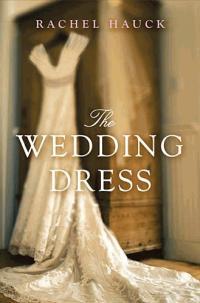 Format: E-book
Genre: Christian Fiction
Publication Date: October 15, 2011
Synopsis:


Four brides. One Dress.

A tale of faith, redemption, and timeless love.

Charlotte owns a chic Birmingham bridal boutique. Dressing brides for their big day is her gift . . . and her passion. But with her own wedding day approaching, why can't she find the perfect dress...or feel certain she should marry Tim?

Then Charlotte discovers a vintage dress in a battered trunk at an estate sale. It looks brand-new-shimmering with pearls and satin, hand-stitched and timeless in its design. But where did it come from? Who wore it? Who welded the lock shut and tucked the dog tags in that little sachet? Who left it in the basement for a ten-year-old girl? And what about the mysterious man in the purple vest who insists the dress had been "redeemed."

Charlotte's search for the gown's history-and its new bride-begins as a distraction from her sputtering love life. But it takes on a life of its own as she comes to know the women who have worn the dress. Emily from 1912. Mary Grace from 1939. Hillary from 1968. Each with her own story of promise, pain, and destiny. And each with something unique to share. For woven within the threads of the beautiful hundred-year-old gown is the truth about Charlotte's heritage, the power of courage and faith, and the timeless beauty of finding true love.
I have to admit, when I first saw this book I didn't know that it was religious fiction. What made me intrigued were the first two sentences of the summary:
Four brides. One Dress. A tale of faith, redemption, and timeless love. Only then, after a few pages in, I got to researching about the book and found out what genre it was. Of course, this didn't change my want to read it, though. I've read plenty of religious fiction, I just don't know why it didn't dawn on me that it was.
The book jumps from various character's points of view each chapter, including Charlotte, Emily and Tim (Charlotte's fiancé) plus a couple of other small characters. It starts off by introducing Charlotte, our present day bride and one of the main characters in the book. She is having trouble in her life, not completely positive that she should be marrying her fiancé (since she hasn't even put any thought into the wedding and it's only 2 months away). Charlotte is a very closed up person. She doesn't come from a big family, she lost her mom early on and has had to rely on herself since very little. Just thinking about joining into Tim's big family really scares her. What scares her the most is neither of them are really making time or effort to start their life off together as a married couple. Within the first chapter, Charlotte is forced, in a way, to purchase this welded shut chest that we later find out houses The Wedding Dress, and from there, her journey of rebuilding her faith really begins.
After trying to read for a few day, I was very seriously ready to put it aside. It was going at a snails pace to me and the switching back and forth between Charlotte and Emily's POV was getting tiring for me. It wasn't until the search for the other brides
really
began that I really started getting into the book and by the end of it, I couldn't put it down. There was seriously one point of the book that I was squealing like a school girl, I was so giddy.
If you're wanting a pretty good read, don't mind the references to christianity & God, and looking a lovely happily ever after, definitely check this book out.