It's WWW Wednesday! To play along, just answer the following three (3) questions…
• What are you currently reading?
• What did you recently finish reading?
• What do you think you'll read next?
My answers:
What are you currently reading?
Without You
by
Kelly Elliott.
It's really taking me a long time to get through this short book. According to my kindle, only 297 pages long, yet I've been stuck on it a week. I *really* wanted to like this book but so far its not really reaching me. I still have almost half the book to go so I'm hoping it'll pick up.
[From Goodreads]
Alex and Will have spent months keeping their relationship hidden from their families. Getting caught prematurely causes them to admit their love for each other to their parents. One decision made by Alex's father changes her entire world, shattering her plans for the future. Alex always thought Will was the very air she breathed, but life has a way of causing doubts for the one thing she thought was absolute…their love. Can Will's promise to Alex be enough for her to hold on to or will she find herself moving down a different path that she never imagined for herself?
What did you recently finish reading?
Fairest (An Unfortunate Fairytale #2)
by
Chanda Hahn
. I really, really enjoyed this book. I'm pretty certain you could pick it up without reading the first and not get horribly lost. It's pretty well written and of course, anything to do with the fae will bring me running.
[From Goodreads]
Mirror, Mirror, on the wall, Who is the Fairest of them all? In the sequel to UnEnchanted, Mina Grime discovers that all is not fair when it comes to the Fae and their tales, especially when they don't all play by the rules. Barely surviving the Story's first fairy tale quest, Mina still has hundreds to go before she can end the curse on her family. But a new player arises to challenge Mina while new rules revamp the game she has just barely begun to understand.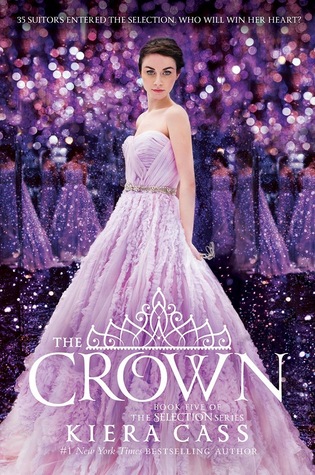 What do you think you'll read next?
The Crown
by
Kiera Cass
. I've been waiting on this book for a year and its a complete bittersweet moment. The Crown wraps up
The Selection
series so even though I finally get to know the end of the story, it'll be the last. Which of course I'm already planning on going back to the beginning and falling in love all over again.
[
From Goodreads]
When Eadlyn became the first princess of Illéa to hold her own Selection, she didn't think she would fall in love with any of her thirty-five suitors. She spent the first few weeks of the competition counting down the days until she could send them all home. But as events at the palace force Eadlyn even further into the spotlight, she realizes that she might not be content remaining alone. Eadlyn still isn't sure she'll find the fairytale ending her parents did twenty years ago. But sometimes the heart has a way of surprising you…and soon Eadlyn must make a choice that feels more impossible—and more important—than she ever imagined.
PLEASE LEAVE A COMMENT with either the link to your own WWW Wednesdays post, or share your answers in a comment here (if you don't have a blog).