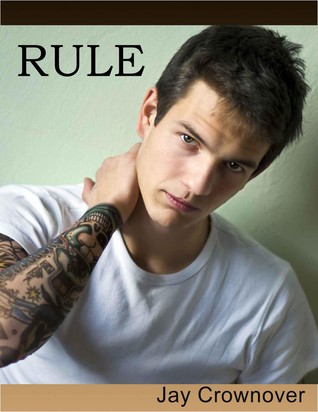 Rule (Marked Men #1)
Author: Jay Crownover
Format: E-book
Genre: Young Adult, New Adult
Publication Date: December 30, 2012
Synopsis:


Opposites in every way . . . except the one that matters

Shaw Landon loved Rule Archer from the moment she laid eyes on him. Rule is everything a straight-A pre-med student like Shaw shouldn't want—and the only person she's never tried to please. She isn't afraid of his scary piercings and tattoos or his wild attitude. Though she knows that Rule is wrong for her, her heart just won't listen.

To a rebel like Rule Archer, Shaw Landon is a stuck-up, perfect princess-and his dead twin brother's girl. She lives by other people's rules; he makes his own. He doesn't have time for a good girl like Shaw-even if she's the only one who can see the person he truly is.

But a short skirt, too many birthday cocktails, and spilled secrets lead to a night neither can forget. Now, Shaw and Rule have to figure out how a girl like her and a guy like him are supposed to be together without destroying their love . . . or each other.
I received this book as a Random Act of Kindness in the oh-so-wonderful Llama Library group on Facebook. I had seen a couple of posts from the ladies there talking about this book and I was really excited when one day it popped up in my email as a gift.
Holy Hell-balls, the sexual tension in this book is to die for! I absolutely LOVED the characters that Jay Crownover has created. The plot. Shaw. Rule. ANGST.. it all makes for a wonderful story. Just the fact that Jay took the extra time to actually develop her story and her characters was a huge plus for me. It seems like the books I've been reading here lately, all fall flat when reading. Either they develop the story OR the characters, never both and that just makes a book boring, or unrealistic.

I kind of warred with what rating to give the book but I finally ended up with 3 1/2 marks which got bumped up to 4 Marks. Mainly, because it really kept me entertained. There was serious angst, some violence and, of course, some good loving. I can't tell you how much I love Shaw and Rule together.
"

It's always been you even when I didn't want it to be, even when it broke my heart over and over again. It's just always been you.

"
I have to admit though, that not long after starting it I had the thought that this story originally must have been a fan fiction piece. The editing in this book was pretty much non existent. There were quite a few typographical errors throughout the book, for instance, where whole words were missing. And grammatical errors that if this story would have been just put into a word editor, they would have red and green squiggly lines everywhere.
Even with it's flaws though, I would say it didn't hinder the way I enjoyed the characters or the storyline, just hopefully she has learned from this book and has since hired an editor.
"

You have to promise not to bail on me when I get lost, Shaw. You have to promise to just wait it out until I can find my way back. I need to know you're at the end of the tunnel when everything goes black.

"
If you want a pretty quick read, definitely check this book out (the link is below). I'm really looking forward to reading the next book in the Marked Men series,
Jet
, which is already begging to be read on my kindle.